I'm Just a Lucky So and So, made famous by Ella Fitzgerald, and truer words were never spoken. I am. I spend my life traveling, making pictures of world news events, the newest cars, movie stars and beautiful women in exciting places. Don't pinch me; I might wake up.
I believe the skills you train for in life prepare you for all the luck that comes your way. That said, it's not every day you cross paths with a marvelous model, Nicole Rayis, who has an uncanny resemblance to Audrey Hepburn. A Starbucks meeting ensues and the collaboration begins to shoot a tribute to one of our idols.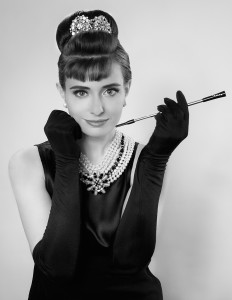 Thought over the years I had found most of the published pictures of Audrey. As Nicole and I discussed the shoot, we realized we both had a deep library of pictures in our smartphones. Like kids trading baseball cards, your Audrey doing Breakfast at Tiffany's for the Roman Holiday Vespa shot, we picked our favorites. Now the 2nd hard part began, her simple, yet elegant style. One would think it's off to Neiman's or Saks. First there was no budget, and second, it wasn't her. Nicole said lets go to a thrift store. Frankly I thought she was nuts. Was I wrong! I'm not sure if I enjoyed learning something new, or just watching Nicole tear through the racks as if we went five minutes before the store's closing. Not only did we find the perfect dress, but a few pieces of jewelry and scarfs for a fraction of the cost. This shoot had good karma from the start.
Due to scheduling conflicts we had to postpone the shoot. Frankly I breathed a sigh of relief. I wasn't ready; I couldn't find the right hat. It couldn't be just any floppy hat. I had a vision and wouldn't settle. Low and behold as I'm feeding a parking meter at a happenstance stop, I see it in a window. Props done.
Now came the moment of truth, putting Nicole into the role. Hair Stylist Jessica Phillips is as wild as she is talented; she makes a set come alive, the fizz in soda. I had a faux hair bun designed by Kennice Kallabat, a Master Stylist and Colorist at HB Salon at The Somerset. Jessica needed to make changes to Nicole's normal hairstyle and make the bun not look like a faux piece, as well as several looks. I put together storyboards and Jessica interpreted them beautifully. K Mohamed needed to make up Nicole with a 1950's style, knowing most of the pictures will be B&W. Not easy seeing B&W and color in the same look. K saw it perfectly.
I benchmark my fashion shoots as Audrey-esque, class, style and grace; portray an elegance whether in an alley or at the Ritz. Never thought I put a shoot together Audreyesque as Audrey. Regardless of being photographed by the top photographers of her day, husband actor Mel Ferrer or just some snapshots behind the scenes on set, her look was always classic. The day of the shoot, before anyone arrived, all I could think of — "What was I thinking?" There will never be another Audrey. Just like there will never be another Marilyn, Grace or Brigitte. I remember when Hollywood, in their infinite wisdom, did a remake of Sabrina with Harrison Ford. I mean really? You want to redo Audrey, Bogart & Holden? That's like trading Mantle in his prime for a player to be named later. Don't give up the Indiana Jones day job. But figured what the heck; let's have some fun. OK I'm a little bit of a hypocrite too.
I had copious notes for each look and now it was my turn. I never photographed Nicole before. We were in a small, cramped, warm studio. But after a couple early missteps it began to happen; the light sang, the team made the changes and Nicole had her Audrey on. When I shut down the lights after the shoot, a feeling I'd never forget this one came over me.
In 1966, my father worked in lower Manhattan. My mother on occasion would take my sister and I to pick him up. This time after parking we walked a couple streets and watched a few scenes of Audrey's new film "Wait Until Dark," being made, one of her last.
Long before his role in Green Acers, I envied actor Eddie Albert. He played Gregory Peck's photographer friend, Irving, in Roman Holiday. Subliminally, I believe that was the start of my career. I'd daydream that after graduating I'd go off to Rome and work for an International News Agency. Actually that happened eventually, but after arriving in Rome, Audrey unfortunately was nowhere to be found. By now she was the Goodwill Ambassador on many missions for UNICEF.
One day my boss told me to bring a tux to the office. That evening he surprised me when Audrey was going to be honored in New York for her charitable work. He assigned me to shoot the event. I had an opportunity not only to meet and photograph her, but shared a few moments and told her about watching her two scenes more than 10 years earlier. I wasn't that nervous shooting the President or Joe Namath. It was my 20 minutes of fame and a visit that is my most memorable.
From the sublime to the metaphorical, to the adage that imitation is the ultimate form of flattery, to the outstanding photographers having the wonderful experience to photograph Audrey and inspired a young kid from Brooklyn with a camera. To Nicole Rayis who made the crew feel we were on the set of Breakfast at Tiffany's, Roman Holiday and Sabrina. To Jessica Phillips and K Mohamed, who with their creativity magically made it happen. And most of all to Audrey, the mere mention of only her first name stands for the epitome of inner beauty, class and style.