I've always cringed when someone called me an artist. Never saw myself that way. Rembrandt, Picasso; they're artist, Avedon and Penn too, along many others. I'm a photographer. Artist? Lets just say it's not a title I thought much of.  I certainly don't mean to minimize photography or photographers; I'm speaking personally. Perhaps being in the arts medium, people assume you're an artist. When going on an assignment some would jokingly say, "I'm off to make art." Or newspaper editors would want to know the "art" accompanying a story. I just called them pictures. Today everyone refers to them as images; haven't warmed up to that at all. I truly believe "Artist," is a title for the best of the best in ones creative field.  I once heard, " I'm not a painter; they wear a white cap, I'm an artist." Thought it was a bit much.
The respect I received from pictures was for no other reason than an understanding of the news business. My boss insisted I read 4 newspapers a day. I began as news photographer. Photojournalist is a term I never warmed too either. I believe many outside the business have this novelistic idea that a "Photojournalist" works out of a tent in the wilds of a third world country on assignment for National Geographic making pictures for the stories they are writing. For years I told my neighbor I worked for United Press International (UPI). She nodded and still asked when was the delivery cut off for Christmas packages. Exhausting. I love what I do and take great pains doing it. I've had my fair share published. Some of the pictures I made took weeks planning and tremendous efforts in execution. Others, some could argue right place right time. But all those years preparing and training to know where that place would be and what time to be there. But an artist, not so fast.
Back when I started in the business photography had a hard time being accepted as an art form. Jackie Kennedy Onassis, a photographer herself, worked hard in changing that perception. Her work through the International Center of Photography brought the medium to a much higher and respected level.
After years in the news business I transitioned into the commercial world. I wouldn't categorize the work as art; it did however pay a lot of bills. Always said I didn't want to be a "starving" artist.
I took on a project for a gentleman, a patron of the arts. It would be part of an event honoring him for his lifetime achievement. We spoke in depth of project's scope. After several rough sketches an idea started to evolve. In many of the seminars I've given over the years, there was always the question: How did you come up with that idea? It's the only question I can't answer. They come while I'm lying on the couch, driving, or typing out blogs. This idea came to me while I was thinking of an unrelated project. Being a creature of the New York Subway system I was always enamored by the mosaics at the stations, something you're introduced to at an early age and gain great respect for their beauty. After seeing an advertisement that used a library of pictures to form a mosaic my direction was clear.
He allowed me into snapshots of his life, childhood, future bride, children and grandchildren, a start. Then schedule a portrait; existing pictures wouldn't work. The plan was to create a mosaic with the snapshots of his life blending it with a present day portrait. Parts of your life that molded you. I didn't want it to look like a collage. Easier said the done.
The software was in its infancy and wasn't easy to work with. The algorithm couldn't specifically place the pictures for the mosaic; it was a random selection. I was beginning to think of Laurel and Hardy's "Well, here's another nice mess you've gotten me into!"
The deadline for the presentation was getting closer. The portrait had to be specific in tone to blend well with the mosaic pattern. Nonetheless the size of the mosaic pattern could be controlled, crucial. What would be the best size of the mosaic pattern relative to the final size of the print for it to look like mosaic and not a collage? Then, the right blend of opacity to keep the detail of the small pictures working in harmony and not take over the portrait. Decisions decisions. Final print was going to be 24×36.
I didn't like the random order of the 300 pictures. The dark areas of the portrait had to be matched with brighter pictures and vice versa. Many experiments, several variations, and a little Photoshop magic later, the mosaic pattern started to match up with the portrait's highlights and shadows.
You can't fall into the trap of everything looking good on screen, much too small. I made several tests throughout the steps and viewed at real size, at a distance, to see the mosaic pattern and portrait blend, then walk up close to see the story within the mosaic.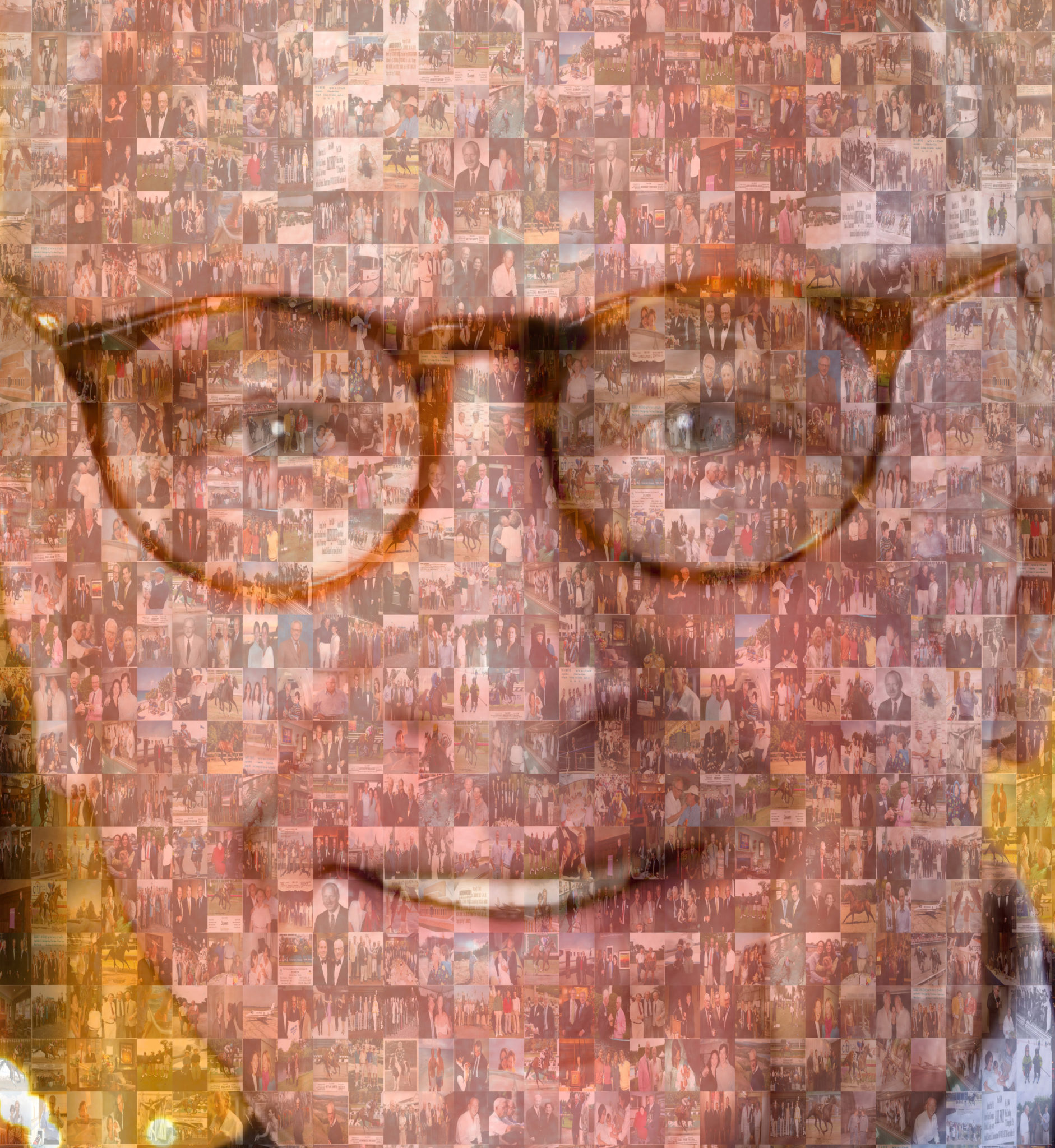 The event came, the work revealed. There was a line several people deep to view it, not just any line, my kind filled with critics. Although I was asked to say close to answer questions,  a little eavesdropping couldn't hurt. Never been called an artist so often and I didn't cringe. Ironically one of the gifts to the gentleman was a book by an artist who paints mosaic patterns to faces. The person who gave the gift and I spoke in length from concept to reality. But the biggest compliment of the night was from the gentleman I did the work.  His personal collection of art is diverse.  He told me the mosaic would hang with his collection.
I seem to be getting a bit more comfortable with this artist thing and not cringing as much.
Joe Polimeni