In my series, A Blast From the Past and Auto Titans:
Zora Arkus-Duntov was an auto industry titan. He wasn't a CEO or President. Zora rose through the ranks to the official title of Corvette's Chief Engineer, but known more glamorously as the "Godfather of the Corvette." However he was much more. He was the door to the many dreams of boy & girls, men & women; all who one day aspired not only to own a Corvette but any racing car. Zora's work covered the bedroom walls of many of our youth. Adults transformed their garages into lacquered palaces with his work as a staple decoration.  His passion inspired countless to become designers, racecar drivers, and car enthusiast.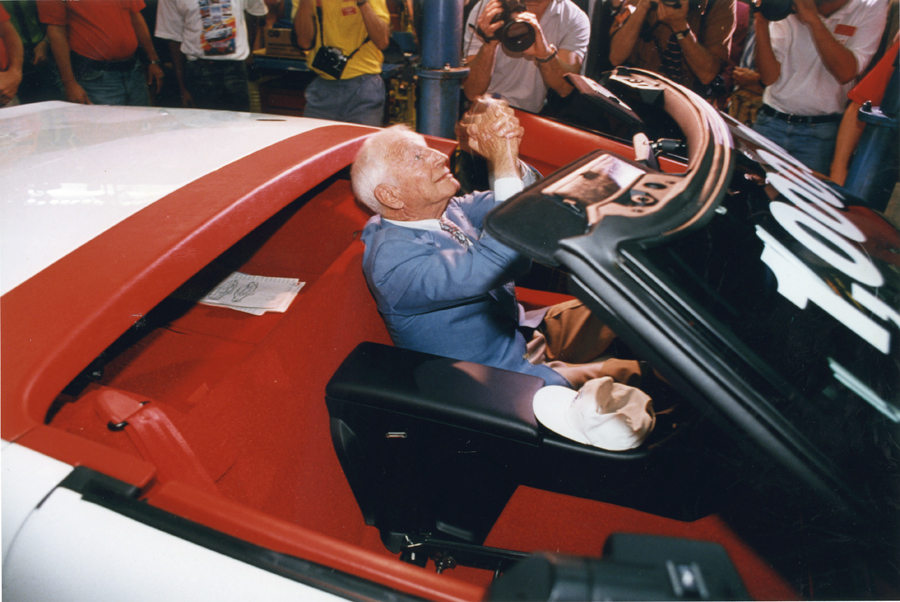 Truth be told I was more into airplanes, cars never resonated with me until transferred to Detroit in 1978. I never aspired to own a Corvette but knew of Zora. Not long after landing here I inquired about making a picture of Zora but was told he had been retired 3 years. When the opportunity to photograph him came up, I jumped at the chance. In 1992, Zora, then 82, was to drive the 1,000,000 Corvette off the assembly line in Bowling Green, Kentucky.
Years ago, the media was always invited to "Job #1;" driving the first production, or a milestone vehicle off the assembly line. Pending how big the introduction, the CEO, President, or VP of the division had the honor. This stopped in the mid '90's for a different marketing direction. Like any "Live" unrehearsed production there is always room for a blooper moment. On occasion the car wouldn't start; embarrassing, but true. Once an executive tried to exit a vehicle; the auto locks jammed and he was momentarily locked inside.
Zora waited at the point where the assembly line conveyer had taken the car as far as it was to go.  It would be started then driven to a final quality inspection area. Taking his position in the driver's seat, surrounded by media, Zora turns the ignition; the One Millionth Corvette starts. With a smile, Zora looks up clasps his hand together and shakes them back and forth.
Although "retired," Zora maintained a presence at countless Corvette enthusiast related events. He passed away in 1996.
Joe Polimeni